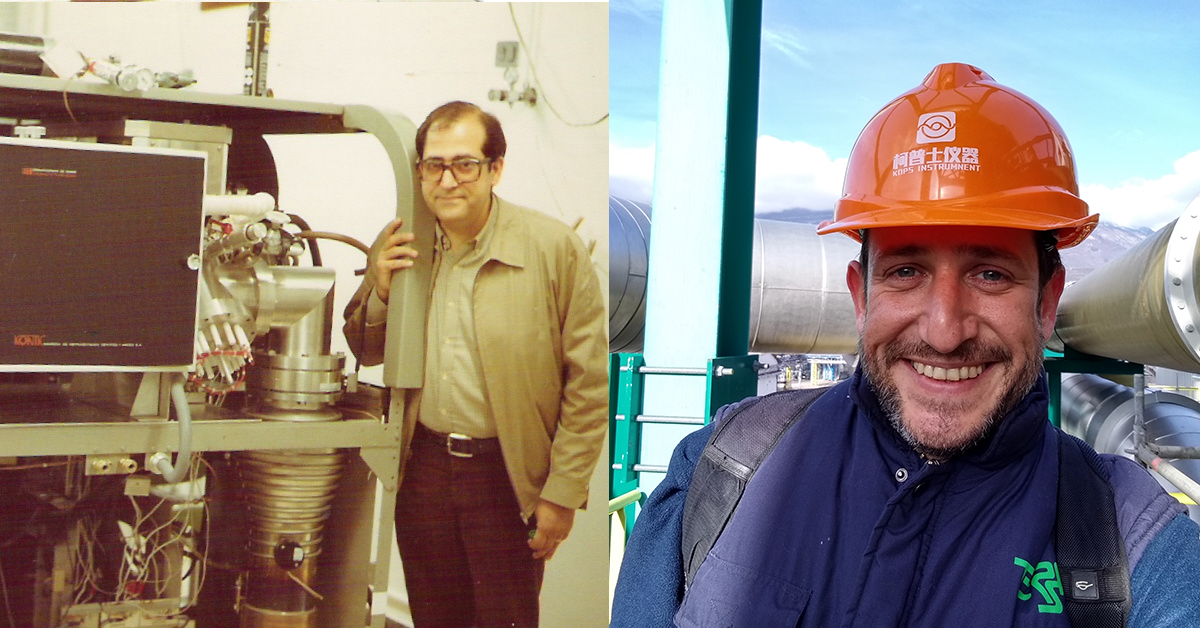 Case Techno Spec: Building a Dioxin Detection Dynasty
Monitoring dioxins is very much a family matter at Gasmet's Spanish distributor Techno Spec where customers benefit from the influence of two generations of analysis research.
Dr Joan Rivera was probably destined for a career in dioxins monitoring. Not only was his father one of the foremost experts in this field – his mother founded Techno Spec in 1985. To fully understand the story it is necessary to go back more than half a century to a young physicist called Josep Rivera who was completing his studies at the University of Barcelona faculty of physics in the early 1960s.
"My father's thesis was a new design for a mass spectrometer analyzer designed to detect compounds at very low concentration," explains Joan. "He presented the thesis in Barcelona and then in Paris."
While in France he joined a company (Saint-Gobain) which committed to the construction of the analyzer, a device that represented a significant advance in the analysis of small components.


Importance of Dioxin Monitoring
Joan's father returned to Spain in the 1970s to take up a post at the National Research Council providing mass spectrometry services. The significance of this work has become increasingly evident in the last few decades as understanding of dioxins (compounds produced during combustion with chlorine) has increased.
There are a number of reasons why dioxin emission monitoring is important. Firstly, they come from a family of pollutants known as persistent organic pollutants, which means they can bond to body fat and do not degrade over time.
Secondly, they are bioaccumulative so the organism at the top of the food chain will absorb all the dioxins accumulated at the various stages of the chain. These characteristics are important because dioxins are highly toxic, carcinogenic and interfere with hormonal systems.
"My academic background is in industrial engineering and after graduating I also worked at the National Research Council analysing dioxins," recalls Joan. "My father had retired by this time so my thesis work was undertaken with my father's successor."


Extending The Limits of Detection
The subject of this thesis was continuous sampling of dioxins in stack emissions. After completing his studies Joan also worked at an incinerator plant for a year before joining Techno Spec, which had been established by his mother (who met his father in Paris) in 1985 as a distributor of laboratory supplies.
"My work at the incinerator gave me a valuable insight into the needs and concerns of our customers," he explains. "In the past, emissions would have been monitored over a six hour period twice a year. I saw the potential of new technology to allow for continuous sampling and enable dioxins to be monitored in the same way as other pollutants."
The precision required to conduct effective dioxins monitoring can be explained by reference to European standards, which permit a maximum emission level of 0.1 nanograms per cubic meter for incinerators. A nanogram is equal to one billionth of a gram.
Fortunately, improvements in analytical technology have extended the limits of detection. As well as working in industrial environments, Techno Spec has installed monitoring systems in locations such as schools to measure pollution levels.


A Top-Notch System
The company has distributed Gasmet's dioxin monitoring solutions for more than a decade and Joan continues to be impressed by the technology.
"GT90 Dioxin+ is a unique system available on the market that can fully meet the European standard EN 1948-1:2006," he says. "Its design makes the system reliable with low and consistent maintenance requirements."
It is also extremely robust. Joan explains that he has sold the system to a customer where it has been operating reliably for four years in extremely high temperatures – a great testimony for a product designed in the rather colder climate!

Image: Joan Rivera and The Rivera family albums. On the left Josep Rivera, on the right his son Dr Joan Rivera from Techno Spec.


Contact Techno Spec:
Available Gasmet solution: GT90 Dioxin+
Address: Calle Pau Alzina, 112, Edificio Podium, 08024 Barcelona, Spain
Phone: (34) 932 845 676
Email: info@technospec.es
Website: www.technospec.es
Are you interested in emissions monitoring? Download a free copy of our emissions monitoring handbook below and learn more about the best available technologies and solutions to do effective emissions monitoring and sampling:
EMISSIONS MONITORING HANDBOOK
In this guide you will learn more about:
Industrial Emissions Monitoring & Suitable Technologies
Quality Assurance
WI BAT Conclusions for waste incinerators and co-incinerators
LCP BAT Conclusions for large combustion plants
Gasmet's Solutions for Emissions Monitoring
Related articles:
Gasmet GT90 Dioxin+ Is an Effective Solution for Dioxin Sampling
Introduction to Quality Assurance of Continuous Emissions Monitoring
A Case Story: LKAB and Gasmet's CEMS Cooperation

Waste Incineration
Power Plants
Cement Production
Raw Gas Measurements
Compliance Measurements
Aluminum Production
Fertilizer and Nitric Acid Production